Electric 2020 MINI Cooper SE Review

2020 MINI Cooper SE
Key Features
Starting MSRP TBA
Electric motor with 135 kW (181 horsepower and 199 lb-ft of torque)
Spontaneous power delivery, low center of gravity, front-wheel drive and wheel slip limiting close to the actuator
Charging capabilities include a household 120-volt socket, wall mounted charger or public charging stations, and fast direct-current charging possible at up to 50 kW
Acceleration from zero to 62 MPH in 7.3 seconds
Model-specific lithium-ion battery enables range of 235 to 270 kilometers – without compromising luggage space (NOTE: US EPA estimated range figures not yet available)
Model-specific display and control elements in the interior
Characteristic design of the MINI 3 Door with model-specific accentuations
About the All-Electric MINI Cooper SE
Paving the way for a sustainable yet highly-engaging urban driving experience, the all-new MINI Cooper SE will debut as the first purely electric premium small car. This model combines unrivaled efficiency with expressive design, premium quality, and driving fun – signature characteristics of every MINI. Based on the iconic MINI 2-Door Hardtop, the Cooper SE features a specialized high-voltage battery positioned low in the vehicle to maximize handling due to a low center of gravity. Up front, its hallmark hexagonal contour allows the Cooper SE to be instantly recognizable as a MINI. Fast-charging capabilities provide the perfect solution for all-electric urban commuting. Model-specific design accents include a decorative yellow bar on the grille and exterior mirror caps finished in the same color. Not only will you enjoy remarkable efficiency, the MINI Cooper SE delivers instantaneous response for a 0-62 MPH time of just 7.3 seconds.
What the Critics Say
The Cooper SE will go on sale in the U.S. in early 2020, with Mini saying it won't cost a huge premium over equivalent gas-powered Minis. After coming away impressed by our stint in a prototype, we're excited to get our hands on the new electric Mini." — Car and Driver
The fully electric 2020 Mini Cooper SE will bring back everything early Mini pioneers loved about the company's first electric effort, the 2009 Mini E, in a more conventional, practical package." — Green Car Reports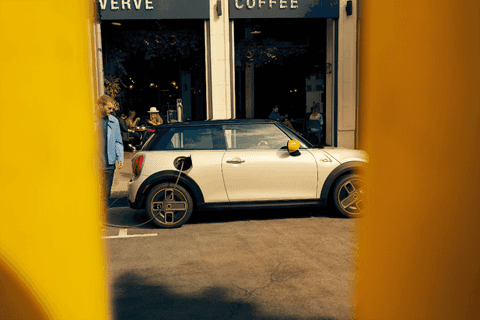 Electrified Performance
The motor of the new MINI Cooper SE mobilizes a maximum output of 135 kW and181 horsepower (US). You can unleash all 199 lb-ft of torque instantaneously from a standstill, a signature component of electric motors. It's able to accelerate from 0-32 MPH in just 3.9 seconds, 0-62 MPH in only 7.3 seconds, and can reach a (limited) top speed of 93.2 MPH. MINI Driving Modes can be selected with a simple press of a switch located on the right-hand side of the toggle bar. Specialized brake energy recovery with two levels of intensity helps recapture and store energy for greater efficiency. Flexible charging capabilities include a connection for AC and DC charging using Type 2 and CCS Combo 2 plugs (J1772 and SAE Combo plugs – US). US models of the new MINI Cooper SE can be also be charged at a maximum charging capacity of 7.4KW with Level 2 AC charging, with DC charging taking even less time. Using 50 kW charging, the MINI Cooper SE is able to achieve an 80% charge in as little as 35 minutes.
Bold Styling
Infused with iconic MINI design elements, the exterior of the all-electric Cooper SE stays true to the look that's made the brand instantly recognizable across the globe. Its charge port is located just above the passenger-side rear wheel, just like where the fuel filler neck is found on conventional MINI models. An embossed MINI Electric logo helps differentiate the powertrain of this all-new model. Yellow accents are found on the turn signal indicator inserts, tailgate, and front grille. All Cooper SE models come standard with stylish yet efficient LED headlights. Optional 17-inch lightweight alloy wheels feature the MINI Electric Corona Sport 2-tone design to help increase aerodynamics.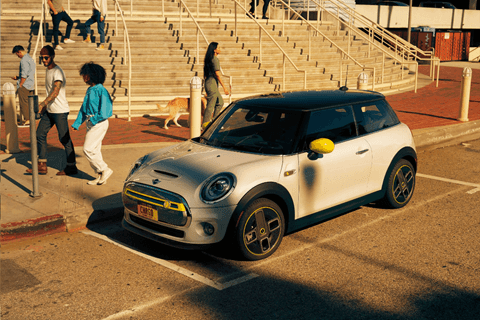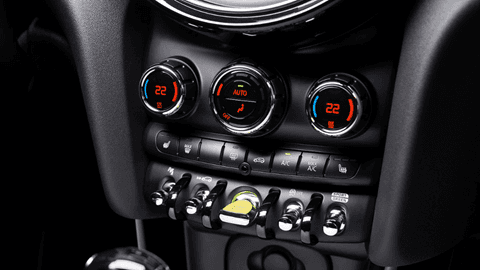 Premium Standard Features
Driving a MINI Cooper SE means that you'll receive a collection of premium standard amenities not typically found on all-electric vehicles. A standard navigation system features a 6.5-inch touchscreen along with Real Time Traffic Information to help you reach your destination on time. Automatic air condition features two zones that can be pre-heated or pre-cooled using MINI Connected Services. A specialized eDrive screen provides drive-specific information related to energy use and performance. Three distinct trim levels, Signature, Signature Plus, and Iconic, each provide drivers with a high level of standard features to match their personality. Using the MINI Connected App on your smartphone, you can view a map of which public charging stations are in the vicinity of your MINI Cooper SE.
Stay Informed on the Upcoming All-Electric MINI Cooper SE